Project X: Hero Academy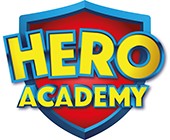 Designed to motivate young readers and turn them into reading superheroes
Fully decodable and finely levelled stories to match the Letters and Sounds framework, with 78 inspirational fiction titles suitable for Reception to Year 2 (P1–P3). Also now includes the Hero Academy: Non-fiction series, consisting of 39 fully-decodable titles for reading practice, aligned to letters and sounds. Broadens children's subject knowledge whilst consolidating their phonics learning and improving their reading fluency.
Fully decodable and matched to Letters and Sounds, the fine phonic progression ensures all children can access the series

Finely levelled to meet the higher expectations of the national curriculum, while building reading confidence and success

Flexible teaching support includes guidance for one-to-one, independent and guided reading
Hero Academy is part of the Project X series.
Download Oxford Decodable reading books Letters and Sounds matching grid (PDF)
Login to see our expert ratings and reviews