No Nonsense Phonics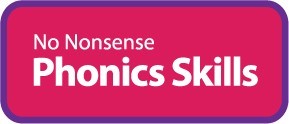 The No Nonsense Phonics Skills programme is one of the DfE validated systematic synthetic phonics programmes.
It provides a logical step-by-step approach to teaching reading, spelling, handwriting and language comprehension. It guides the student and the teacher through a series of carefully designed systematic phonics routines to master the complex English Alphabetic Code.
Prepare your pupils for the Phonics Screening Check – each book combines the opportunity to practise decoding skills on unfamiliar real words within the context of relevant non-fiction. All words are fully decodable using the letter-sound correspondences covered in the Phonics Screening Check.
The series develops pupils' vocabulary, by introducing them to new words. Interesting facts included at the back of each book add meaning and encourage discussion with teachers and parents. Helpful notes in the front of the books provide guidance for teachers and parents.
Login to see our expert ratings and reviews