Little Blending Books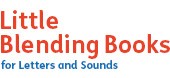 Little Blending Books for Letters and Sounds
have been created specifically to match Letters and Sounds Set and Phases and can be used alongside any of your existing phonics resources.
These blending books are ideal for children to use in pairs in the classroom, or at home with a parent or caregiver as take-home practice.
There appear to be no results for this search.
Do you wish to rerun this search with "Read, reviewed and rated" unselected?