Comics in the classroom: using comics and graphic novels to boost reading for pleasure
Comic books and graphic novels are becoming increasingly popular in schools, and can be a brilliant way to engage even your most reluctant of readers. If you're keen to add to your comics and graphics collection but need some tips on the best ways to use the books in the classroom, we can help.
Created in conjunction with BooksForTopics, this free one-hour session for primary schools will be hosted by Peters' Children's Librarian and graphic novels and comics specialist, Lucy Forrester, along with Lucy Starbuck-Braidley, Programme Manager at National Literacy Trust and host of the new Comic Boom: Comics in Education podcast.
They'll discuss the literacy benefits of comics and graphic novels, as well as what to look out for when adding to your comic collection in school. They'll also share some of the history of graphic novels, with some fun comics trivia thrown in!
Plus, we'll hear from Richard Ruddick, Year 6 teacher and Comics in Class blogger on how he's already using comic books in his own classroom.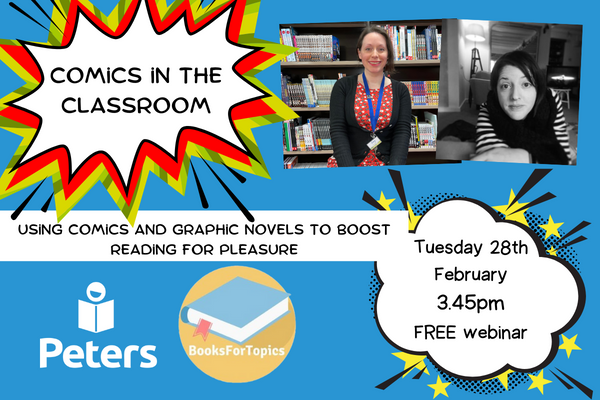 Webinar hosts
Lucy Forrester

Lucy worked as a children's librarian in Warwickshire public libraries before joining Peters over ten years ago. She is the company's comics and manga specialist, and was an assistant organiser for the Birmingham Comic Con for several years. Now she gives talks to librarians and teachers on how to use this format most effectively. As well as being on the judging panels for the Information Book Award and Excelsior Award, she has spoken at YLG conferences and SLA events.
Lucy Starbuck-Braidley

Lucy Starbuck-Braidley is senior programme manager at the National Literacy Trust, and has recently launched the brand new Comic Boom podcast to support schools with the use of comics in education, providing inspiration and tips on how to use comics effectively in your classroom.



Richard Ruddick

Richard Ruddick is a year six teacher from Norfolk who is passionate about using graphic novels to develop passionate readers. He runs a blog about how he utilises them to support learning and as a tool to improve engagement across the curriculum.
Details
Suitable for: Primary school literacy leads, librarians and all those promoting reading for pleasure in primary schools
Date: Tuesday 28th February 2023
Location: Zoom
Cost: FREE
Duration: 1 hour
Start: 3.45pm
End: 4.45pm
Book your free place
Fill out your details below to register for your free place. You will receive an email shortly after, confirming your booking.